The Revolutionary Writer - Manoj Das
The Revolutionary Writer - Manoj Das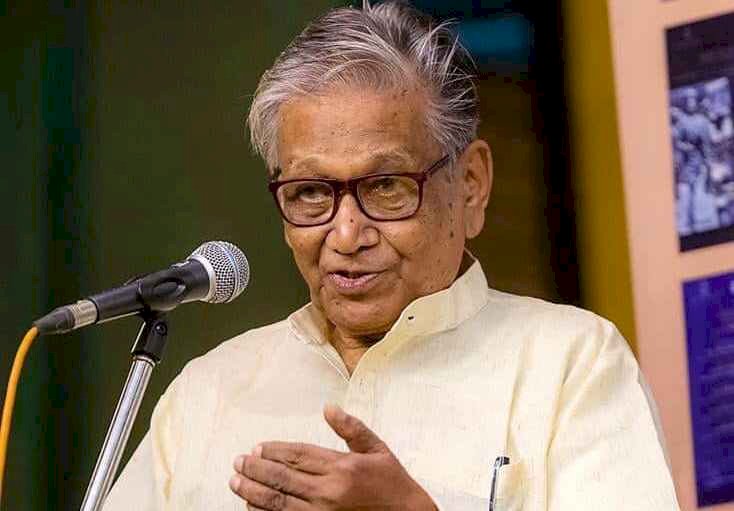 The Revolutionary writer - Manoj Das
Shri Manoj Das was an Indian bilingual author who wrote both in Odia and English. He was a great Laureate, born on February 27, 1934. It is really a painful moment for all of us that Eminent writer Manoj Das passed away at the age of 87 on Tuesday, April 27, 2021. He is widely admired as an educationist, prolific writer, and popular columnist. The legend was born in the small coastal village of Shankari in Bhograi, Balasore District, Odisha. The illustrious writer Manoj Das was the best author in Odia and a highly appreciated writer in English. Many poems were written by him in Odia and he felt that poetry is at its best when written in one's mother tongue. In our generation, he was considered as one of the best storytellers and the man whose works attracted writers like Graham Greene and Ruskin Bond. Manoj Das is familiar to all for his simple, impactful, and magical writing. In this article, we will briefly analyze the revolutionary writer, Shri Manoj Das's rich contributions to English and Odia Literature, as a admirer of nature, his simplicity and unique style of writing.
The Great Admirer of Nature:
Manoj Das, who is also compared with O'Henry by many scholars for his short stories. Manoj Das's literary works which are basically set in rural villages not only depict the community life as a whole but nature as the most significant force. His works show his admiration and love of nature. Nature plays a crucial role in some of the stories of Manoj Das. Nature and Man are interrelated with each other. It has a great impact on the life of humans. Even as Wordsworth says, 'It is "a friend, teacher and guide" for humans. He is always keen to depict every object of Nature in a lucid manner: ... I was blessed with an extraordinary environment, dreamy and lyrical. The beauty of Nature tempted Das in his childhood and it continued to haunt him forever. He gives a vivid and realistic picture of nature in his stories.
His Unique Style of Writing:
Manoj Das's writings were based on human suffering in the villages of his state and layered them by using such fantasy and satire that it left an unforgettable impression on the mind of readers. By selecting proper words, he makes the stories more realistic. He also uses some rustic words in a beautiful manner which attracts the reader more. The miracle of his writings is that one reader can get pleasure and feel the senses that beautifully depicted. Really his writings have the quality to shift you to the particular scenarios which he represents in his stories. His picturesque childhood experiences, which helped him to portray his incidents as a youth in his stories. He spent his childhood and youth in the village which made him acquire first-hand knowledge of the emotions, traditions, beliefs, superstitions, likes, and dislikes of the villagers. His writings in Odia and English are distinguished by the magnificent style of writing and selection of words and choice of subjects.
Quest for Mysticism:
"In the early 60s, I cut myself apart from the philosophy of communism. I was drawn into the life divine of Sri Aurobindo." This is the word spoken by Manoj Das. His quest for spirituality motivated him to become an inmate of Sri Aurobindo Ashram in Puducherry. Since 1963, he had been a professor of English literature and philosophy there. The Spiritual awakening made his writings take a different direction. He believed that inspiration plays the most significant role in creative expression. He became a mystic, Das made Puducherry his home for several decades as he moved to Sri Aurobindo Ashram in 1963. Most of his writings were written three.
Simplicity and Humbleness:
'Mo Maa ti kete bhala, kete bhala padma phula"
These were the sweet words that Manoj Das uttered when he was unaware of alphabets or even able to fathom language or literature. These words of selfless love for his mother remained so etched in his memory that he recalled the moment an interviewer asked him about the time when he first started writing. More than admiration for his writings, appreciation for the man, the writer took over in a few minutes of conversation. The most charming personality who has clarity of thought, truthfulness, sobriety, and an infectious smile. That was Manoj Das.
Awards :
Manoj Das was awarded The Saraswati Sanmana in 2000 for his great contribution in the field of English Literature.
He received Padma Shri in 2001.
the fourth-highest Civilian Award in India, Padma Bhusan in 2020
Mr. Das was the recipient of several awards including the Mystic Kalinga Literary Award in 2020.
He received the first Sri Aurobindo Puraskar for his research on the lesser-known facts of India's freedom struggle led by Aurobindo.
He was also honored with the Sahitya Akademi Award fellowship.
He was also honored with Sri Aurobindo Puraskar, Sahitya Akademi Award (1972), Orissa Sahitya Akademi Award, Sarala Award, the Sahitya Bharati Award, and BAPASI (Book-sellers And Publishers Association of South India)
Notable works:
His short stories, novels, essays, and poems represented an understanding of the human psyche and a perfect combination of social realism. He was well-known as one of the revolutionary writers who tried to change the psyche of human beings. He wrote stories for children and adults and later branched out to various fields including travelogues, short stories, novels, and novelettes. Even as he wrote in Odia, he started writing in English in 1968 and some of his famous works are, A Tiger at Twilight, The Submerged Valley, The Bridge in the Moonlit Night, Cyclones, The Tree, the Miracle, The Crocodiles Lady, Mystery of the Missing Cap, Myths, Farewell To Ghost, Legends, Concepts and Literary Antiquities of India. Some of his Odia works are, 'Aakashra Isara', 'Amruta Phala','Tandralokara Prahari'. He also wrote many articles in Times of India, The Hindustan Times, The Hindu, The Statesman as well.
Final Thought
His death is indeed a great loss in the world of Literature, but he has left behind a treasure of unforgettable memories in the hearts and minds of everyone he touched through his writings. In the field of literature with his vast variety of immortal works and left a space that can never be filled. A legend has no death. Manoj Das is eternal. He is a great influential person and path guide for all of us. No one will motivate us the way Manoj das does through his writings and speeches. He will remain immortal in our hearts.